---
[ Home ] [ Up ] [ Supplement A - C ] [ Supplement D - L ] [ Supplement M-Z ] [ Supplement Reserved Access ] [ Supplement Vegetables ] [ Seedlist A-AK ] [ Seedlist AL-AN ] [ Seedlist AP-AZ ] [ Seedlist B ] [ Seedlist CA ] [ Seedlist CE-CL ] [ Seedlist CN-CZ ] [ Seedlist DA-DE ] [ Seedlist DI-DZ ] [ Seedlist EA - ER ] [ Seedlist ES - EZ ] [ Seedlist F-G ] [ Seedlist H ] [ Seedlist I-K ] [ Seedlist LA-LE ] [ Seedlist LI ] [ Seedlist LO-LZ ] [ Seedlist M ] [ Seedlist N ] [ Seedlist O-PA ] [ Seedlist PE-PH ] [ Seedlist PI-PZ ] [ Seedlist Q-R ] [ Seedlist SA-SH ] [ Seedlist SI-SZ ] [ Seedlist TA-TO ] [ Seedlist TR-TZ ] [ Seedlist U-V ] [ Seedlist W-Z ] [ Vegetable Seed A - D ] [ Vegetable Seed E - R ] [ Vegetable Seed S - Z ] [ Organic Seeds ] [ Books ] [ Bulk Seed List ] [ Reserved Access ]
---
J. L. HUDSON, SEEDSMAN, BOX 337, LA HONDA, CALIFORNIA 94020-0337 USA
2017 SUPPLEMENT - D - L
How to Request Seeds
Request Form for requests sent by the postal service.
Online Requests for e-mail requests with PayPal payment only.
Don't forget postage and packing!
Bulk Seed
2017 Supplement Seedlist - D - L

DAHLIA
—Dahlia 'Collarette Mixed'. (100) DAHL-15D. Packet: $2.50
25 grams: $12.00
Collarette types in a good range of colors, the flowers with a contrasting inner ring of petals. Dwarf or semi-dwarf to 2 1/2 feet or so. Germinates in 1 - 2 weeks.
—Dahlia 'Red Road'. (25) DAHL-15H. Packet: $2.50
10 grams: $9.00, 25 grams: $18.00
Deep dark bronzy foliage inspired the name. Dwarf plants to 2 feet, with semi-double flowers in a wide range of colors from deep red to pastel lilac, 2 - 4" wide. Nice! This old favorite was originally named 'Redskin', but since many American Indians take exception to this, I've renamed it, even though this isn't an approved practice. Tough luck, purists!

DELPHINIUM
—Delphinium Nuttallianum. (200) DELP-66. Packet: $2.50
Deep blue to purple-blue inch-long nodding flowers in racemes. Slender hardy perennial to 1 - 2 1/2 feet, with round, 3 - 5-parted leaves. Tuberous root. B.C. to California and Utah. Zone 4. Germinates at cool temperatures, and may need prolonged prechill, hold pots several years.
—Delphinium vestitum (25) DELP-100. Packet: $2.50
Large deep blue to purplish 1 1/2" flowers with curved spurs, in crowded foot-long spikes in August. Densely downy perennial to 3 feet, with large divided basal leaves up to a foot across. Himalayas, from 8000 to 13,000 feet. Zone 6 or 7. Germinates in 2 - 3 weeks.

DIGITALIS
—Digitalis ferruginea. (=Digitalis aurea) (100) DIG-5. Packet: $2.50
Click for photos »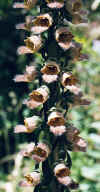 'RUSTY FOXGLOVE'. Rusty-red, downy flowers in long dense spikes. A striking hardy biennial or perennial to 3 - 6 feet. S. Europe. Zone 3. Germinates in 2 - 3 weeks.

DILLWYNIA (dil-WIN-ee-a)
LEGUMINOSAE, tribe: MIRBELIEAE. Attractive small Australian endemic heath-like shrubs with yellow and red pea-like flowers. Of diversity sampling interest.
—Dillwynia juniperina. (25) DILL-13. Packet: $2.50
'PRICKLY PARROT-PEA'. Yellow 1/2" flowers with red markings. Small shrub to 3 - 6 feet, with small needle-like leaves. Resembles a juniper. SE Australia. Stands drought. Good in California. Nick seed to germinate in 2 - 4 weeks. Zone 9.

DIPLARRHENA (dip-la-RE-na)
IRIDACEAE. Two Iris-like species from Australia.
—Diplarrhena Moraea. (50) DIPL-6. Packet: $2.50
'BUTTERFLY' or 'WHITE FLAG IRIS'. Fragrant white 1 1/2" flowers flushed lilac. Iris-like plant at 1 1/2 - 3 feet, with narrow leaves. S. Australia. Long bloom period. Germinates in 2 - 20 weeks.

DODONAEA (do-do-NEE-a)
SAPINDACEAE. Widespread warm-region evergreen trees and shrubs with ornamental foliage and winged pods. Good in arid regions. Seed long-lived.
—Dodonaea boronifolia. (100) DODO-3. Packet: $2.50
Ferny pinnate dark green to bronzy, downy foliage. Clusters of pink to red to purple winged 3/4" pods in summer. Attractive upright shrub to 6 feet. Australia. Good in California. Nick seed to germinate in 2 - 10 weeks.

DOLICHOS (DOLL-i-kos)
LEGUMINOSAE. Fast growing tropical annual and perennial twiners with attractive Wisteria-like flowers and pods. Blooms freely from July to October. Grown for food, forage, ornament, and analytical work. Likes warm, rich, moist soil. In the greenhouse, they can be flowered three to an 8" pot. Soak seed till swollen, hot water may help. Sow indoors in pots in March to germinate in about 1 - 3 weeks. Plant out in warm weather. Seed viable 4 - 10 years.
—Dolichos Lablab. (10) DOLC-4. Packet: $2.50
'HYACINTH BEAN'. Showy large purple Wisteria-like 3/4" flowers in upright 6" spikes, followed by 2 1/2 - 5" pods filled with dark seeds. Large broad leaves. Tender perennial to 10 - 20 feet, grown as an annual in the U.S. Eagerly grazed by cattle, sheep, pigs and goats, excellent green manure and erosion control. Adapted to 8 - 100" precipitation, many soil types, and is nitrogen fixing. The ripe seeds contain 20 - 28% protein, and are boiled for food (the water discarded), or sprouted like mung. Young green seeds eaten cooked, and immature pods are an excellent table vegetable. Young leaves cooked like spinach, and the flowers are eaten raw, steamed, or added to soups. The large, starchy root is said to be edible. Soak, nick unswollen, to germinate in 1 - 3 weeks.
—Dolichos Lablab 'Red Leaved'. (20) DOLC-4RL. Packet: $2.00
Ounce: $7.50
Striking variety with red leaves. Unusual! Germinates in 1 - 3 weeks.

DYPSIS (DIP-sis)
PALMAE. Ornamental Madagascar palms.
—Decaryi. (10) (=Neodypsis Decaryi) DYPS-16. Packet: $2.50
100 seed: $7.50
'TRIANGLE PALM'. Striking palm with fronds in three ranks, forming a triangle-shaped trunk. To 30 feet, with bluish-grey 15 foot fronds. South Madagascar. Zone 9b. CITES Appendix II endangered species. Good in tubs. Needs warmth to germinate in 2 months or so.

ECHINOCYSTIS (ee-ki-no-SIS-tis)
CUCURBITACEAE. A single species.
—Echinocystis lobata. (10) ECHY-15. Packet: $2.50
1/2 Oz: $7.50
'MOCK CUCUMBER'. Attractive fast growing annual to 15 - 20 feet, with smooth, lobed leaves, and large clusters of white flowers. Egg shaped 2" papery fruits. E. N. America. Fresh seed dormant, sow outdoors early for best germination, and hold pots two years for stragglers.

ESCHSCHOLZIA
—Eschscholzia californica 'Purple Gleam'. (1000) ESCH-1P. Packet: $2.50
Ounce: $7.50, 1/4 Pound: $16.00
Unusual purple-violet flowers. Annual to 15".

EUCALYPTUS
—Eucalyptus Nicholii. (100) EUCA-190. Packet: $2.50
'NICHOL'S WILLOW-LEAVED PEPPERMINT'. Graceful willowy tree to 40 feet, with weeping habit. Peppermint-scented light to grey-green very narrow 2 - 5" leaves, tiny white flowers and reddish-brown bark. N.S.W. Fast growing, and hardy to 12 - 15°F. Germinates in 1 week warm.
—Eucalyptus orbifolia. (100) EUCA-215. Packet: $2.50
'ROUND-LEAVED MALLEE'. Shrub to 25 feet, with thin 2 - 3" trunks and round, grey-green 1 - 3" leaves contrasting with the red-brown bark, which peels in strips, leaving pale green strips between. Pale yellow flowers. W. Australia. An unusual desert species, it was 'lost' for many decades, known only from the type specimen, rediscovered in 1940.
—Eucalyptus stoatei. (25) EUCA-274. Packet: $2.50
https://florabase.dpaw.wa.gov.au/browse/profile/9157
'SCARLET PEAR GUM'. Spectacular large red buds and yellow flowers. Slender tree to 20 feet. W. Australian endemic. Zone 9. Germinates in 1 - 4 weeks.
—Eucalyptus subcrenulata. (25) EUCA-286. Packet: $2.50
http://bie.ala.org.au/species/http://id.biodiversity.org.au/node/apni/2909390#overview
http://davesgarden.com/guides/pf/go/79624/
https://www.anbg.gov.au/gnp/cold-climate/eucalypts-cold-climates.html
'TASMANIAN ALPINE YELLOW GUM'. One of the hardiest, standing to Zone 7. Smooth grey to yellow bark. To 60 feet, narrow leaves. Mountains of Tasmania. Germinates in 1 - 3 weeks.
—Eucalyptus websteriana. (25) EUCA-320. Packet: $2.50
https://florabase.dpaw.wa.gov.au/browse/profile/5798
'HEART-LEAF MALLEE', 'DAINTY MALLEE'. Attractive heart-shaped leaves attached at the point of the heart, not between the 1obes. Small tree to 30 feet, with yellow flowers. W. Australia. Zone 8 or 9. Germinates in 1 - 3 weeks.

EUTAXIA (you-TAX-ee-a)
LEGUMINOSAE. Small Australian shrubs.
—Eutaxia parviflora. (50) EUTA-19. Packet: $2.50
https://florabase.dpaw.wa.gov.au/browse/profile/3879
'BACON AND EGGS'. Bright yellow flowers splashed with red. Compact shrub to 3 - 6 feet. W. Australia. Zone 9. Nick to germinate in 1 - 4 weeks.

FRITILLARIA
—Fritillaria pudica. (75) FRIT-34. Packet: $2.50
5 grams: $7.50
'YELLOW FRITILLARY'. Yellow or orange 3/4" flowers tinged purple. To 12". W. N. America. Zone 3. Germinates at cold temperatures.

GASTROLOBIUM (gas-tro-LO-bee-um)
LEGUMINOSAE. Western Australian shrubs.
—Gastrolobium coriaceum. (50) GAST-8. Packet: $2.50
https://www.anbg.gov.au/cgi-bin/phtml?photo_class=wae&photo_no=206
Orange flowers marked with red, on a shrub to 6 feet. W. Australia endemic. Zone 9. Nick seed 10 germinate in 2 - 3 weeks.
—Gastrolobium crassifolium. (25) GAST-10. Packet: $2.50
Flowers range from orange and yellow to white with red centers. Bushy shrub to 5 feet. W. Australian endemic. Zone 9. Nick seed to germinate in 2 - 4 weeks.

GERANIUM
—Geranium Perennial Mixed. (10) GERN-X. Packet: $2.50
White, pink, lavender, and violet flowers, and variously lobed leaves. A nice mix of hardy perennial kinds to 8 - 18". Zone 5. Includes Johnson's Blue, Vision Pink, Ingwersen's Variety, G. sanguineum, G. sanguineum Album, G. sanguineum striatum, and other kinds. Lightly nick seed.

GLADIOLUS
—Gladiolus crassifolius. (20) GLAD-14. Packet: $4.00
Bell-shaped pink-mauve flowers in spikes to 2 - 3 feet tall. Half-hardy perennial with strap-like leaves. South African grasslands. Zone 7. For more seeds and plants grown by plant-explorer Ben Kamm, including many Andean rarities, see his website at www.sacredsucculents.com

GLYCINE (gly-SEE-ne)
LEGUMINOSAE. Herbaceous plants.
—Glycine tabacina. (25) GLYCI-24. Packet: $2.50
FAO Report: http://www.fao.org/WAICENT/FAOINFO/AGRICULT/AGP/AGPC/doc/GBASE/Data/Pf000043.HTM
http://plantnet.rbgsyd.nsw.gov.au/cgi-bin/NSWfl.pl?page=nswfl&lvl=sp&name=Glycine~tabacina
'SWEET ROOT', 'VANILLA GLYCINE'. Blue to purple flowers in 6" racemes. Scrambling perennial. Australia. Zone 9. Nitrogen-fixing butterfly host. The thick, licorice-flavored root has been eaten. Nick seed to germinate in 1 - 4 weeks.

GOMPHOLOBIUM (gom-fo-LO-bee-um)
LEGUMINOSAE. Spectacular Australian shrubs with bright lemon-yellow flowers. "These are among the most beautiful and spectacular flowering plants..."—Robinson. Good in California. Smoke treatment may help germination.
—Gompholobium scabrum. (10) GOML-22. Packet: $2.50
https://florabase.dpaw.wa.gov.au/browse/profile/11083
http://davesgarden.com/guides/pf/showimage/217960/
'PAINTED LADY'. Abundant pink-purple flowers on a heath-like shrub to 6 feet, with needle-like leaves. W. Australia. Zone 9. Nick seed to germinate in 1 - 4 weeks.

GREVILLEA (gre-VIL-ee-a)
PROTEACEAE. 'SPIDER FLOWER'. Australian trees and shrubs grown in warm regions for their peculiar, often brightly colored flowers, Good in tubs in the greenhouse. Drought resistant once established. Full sun and well drained soil. Soak seed for 48 hours, to germinate in 2 - 10 weeks. Light and smoke treatment may help germination. Seed gives good germination for up to 4 years.
—Grevillea Banksii var. Forsteri. (20) GREV-8F. Packet: $2.50
'BANK'S GREVILLEA', 'KAHILI FLOWER'. Large 3 - 6" spikes of bright rosy red, peculiarly-formed flowers with long curved stamens tipped yellow. Shrub or small tree to 20 feet, with dark green, pinnate ferny leaves. Queensland. Hardy to 24°F. Blooms on and off throughout the year. GA-3 helps germination. Long bloom period. Germinates in 4 - 12 weeks.
—Grevillea johnsonii. (10) GREV-22. Packet: $2.50
http://plantnet.rbgsyd.nsw.gov.au/cgi-bin/NSWfl.pl?page=nswfl&lvl=sp&name=Grevillea~johnsonii
'JOHNSON'S GREVILLEA'. Brilliant red or orange spidery flower clusters in spring. Rounded shrub to 15 feet, with narrow 4 - 10" divided leaves. E. Australia. Zone 9. Nick to germinate in 3 - 16 weeks.
—Grevillea monticola. (10) GREV-28. Packet: $2.50
https://florabase.dpaw.wa.gov.au/browse/profile/2042
'HOLLY-LEAF GREVILLEA'. Creamy white flowers in pendant clusters. Rounded shrub to 3 - 5 feet, with blue-green holly-like leaves. W. Australian endemic. Nick to germinate in 2 months or more.
—Grevillea pteridifolia. (10) GREV-38. Packet: $2.50
Golden-orange 6" clusters of flowers in winter and spring. Variable, ranging from a shrub to a tall tree, with 16" pinnate leaves. North Australia. Germinates in 2 - 8 weeks, light nicking may help.

HAEMODORUM (hee-mo-DOR-um)
HAEMODORACEAE. Unusual Australian plants with red to black flowers in airy clusters above grass-like leaves. Stem and roots blood red. Related to Anigozanthos. Leaves die back when dormant. Seed often germinates best at cool temps. Smoke treatment may help germination.
—Haemodorum simplex. (25) HAEM-20. Packet: $3.00
https://florabase.dpaw.wa.gov.au/browse/profile/1472
Striking black flowers in clusters in spring. Bulbous perennial to 8 - 24" tall. W. Australia. Germinates in 6 - 8 weeks or so at cool temperatures.

HAKEA (HA-kee-a)
PROTEACEAE. 'PINCUSHION TREE'. Striking evergreen Australian shrubs related to Grevillea, Banksia, and Protea. Noted for their exceedingly diverse foliage and interesting flowers. Good outdoors in California and the South, standing seacoast exposure. Tough, drought resistant and standing several degrees of frost. Sow seed in winter or early spring in sandy soil. Seed viable 5 - 10 years or more. Smoke treatment may help germination.
—Hakea bucculenta. (10) HAKE-8. Packet: $2.50
https://www.anbg.gov.au/gnp/gnp12/hakea-bucculenta.html
http://anpsa.org.au/h-buc.html
https://florabase.dpaw.wa.gov.au/browse/profile/2135
'RED POKERS'. Bright red flowers in dense 6" spikes in spring. Shrub to 3 - 15 feet, with narrow 8" leaves. W. Australia. Zone 9. Germinates in 2 - 4 weeks.
—Hakea multilineata. (10) HAKE-58. Packet: $2.50
http://anpsa.org.au/h-mul.html
https://florabase.dpaw.wa.gov.au/browse/profile/2184
http://davesgarden.com/guides/pf/go/178693/
'GRASS-LEAF HAKEA'. Bright pink flowers in dense clusters. Shrub or small tree to 5 - 20 feet, with narrow 3 - 8" leaves. W. Australia. Zone 9. Germinates in 4 - 8 weeks cool.
—Hakea orthorrhyncha. (10) HAKE-62. Packet: $2.50
http://www.anpsa.org.au/h-ort.html
https://florabase.dpaw.wa.gov.au/browse/profile/2192
http://davesgarden.com/guides/pf/go/178723/
'BIRD BEAK HAKEA'. Bright red flowers in spring, followed by beaked pods. Shrub to 3 - 9 feet, with narrow grass-like leaves. W. Australia. Zone 9. Germinates in 3 - 8 weeks or so.

"Ignorance is preferable to error, and he is less remote from the truth who believes nothing, than he who believes what is wrong."—Thomas Jefferson.

HEDYSARUM
—Hedysarum boreale. (50) HEDS-4. Packet: $2.50
1/4 Ounce: $7.50
Pictures: http://www.wildutah.us/html/plants_scenery/h_sweetvetch_utah.html
'UTAH SWEETVETCH'. Masses of dark pink 1/2" flowers in long racemes in June and July. Showy hardy perennial to 1 - 3 feet, with pinnate leaves. Dry hillsides, central North America. The young roots are sweet and eaten cooked. Zone 3. Soak, nick hard ones, to germinate in 1 - 4 weeks.

HELIOPSIS
—Heliopsis scabra 'Burning Hearts'. (15) HELO-24B. Packet: $4.00 OUT OF STOCK
Large golden 4" flowers with vivid red centers, July to frost. Hardy perennial to 4 feet, with deep purple leaves and black stems. Zone 3. Good cut flower and blooms the first year. Germinates in 1 - 3 weeks.

HELLEBORUS
—Helleborus foetidus. (50) HELB-6. Packet: $2.50
5 grams: $7.50
'BEAR'S FOOT'. Nodding bell-shaped pale green 1/2 - 1 1/4" wide flowers, often edged or tipped reddish or purple. Hardy evergreen perennial to 1 1/2 feet, with leathery, dark green, divided leaves. S. and W. Europe. Zone 5. Blooms February to April. Choice. Give seed 6 - 12 weeks warm, then cold treatment. Best sown in fall. Hold pots 2 years.
—Helleborus orientalis 'New Hybrids'. (10) HELB-19N. Packet: $4.00
Large flowers in yellow, pink, white, red, and purple, with some spotted, striped, and semi-double types. Zone 3. Needs warm/cold/warm cycles.
—Helleborus purpurascens. (25) HELB-20. Packet: $4.00
Greenish purple to bluish 3" wide flowers, purple-violet outside, with dark veins, in winter and spring. Hardy perennial to 16", with deeply lobed leaves. Hungary. Zone 4. Good in humusy soil. Forms mats. Needs warm/cold/warm cycles.

HEMIANDRA (he-mee-AN-dra)
LABIATAE. Western Australian plants.
—Hemiandra pungens. (25) HEMI-19. Packet: $2.50
http://www.anpsa.org.au/h-pun.html
https://florabase.dpaw.wa.gov.au/browse/profile/6839
http://www.oznativeplants.com/plantdetail/Snakebush/Hemiandra/pungens/zz.html
'SNAKEBUSH'. Showy pink to mauve flowers with dark spots. Sprawling evergreen shrublet to 3 feet across, with narrow leaves. SW Australia. Zone 8. Needs good drainage. Give GA-3 to germinate in 2 - 4 weeks.

HETEROTHECA (he-ter-o-THEE-ka)
COMPOSITAE. Native American daisies.
—Heterotheca grandiflora. (100) HETH-10. Packet: $2.50
Ounce: $7.50, 1/4 pound: $20.00
http://www.calflora.org/cgi-bin/species_query.cgi?where-taxon=Heterotheca+grandiflora
'TELEGRAPH WEED', 'CAMPHOR WEED'. Bright yellow inch-wide daisies on an annual or biennial to 6 feet, with a strong camphor scent. California. Zone 8. Attracts butterflies and pollinators. Germinates in 1 - 2 weeks cool.

HIBISCUS
—Hibiscus Sabdariffa. (25) HIBS-37. Packet: $2.50
10 grams: $10.00
'ROSELLE', 'JAMAICA SORREL'. Yellow or pink 2" flowers. Annual or perennial to 4 - 7 feet, with 3-lobed leaves. Mainly grown for the succulent red calyx, which is made into tart sauces, jellies and cooling drinks, having a cranberry-like flavor. The leaves and young shoots may be eaten raw in salads, or cooked, having a rhubarb-like flavor. Seeds eaten toasted, and the plant may have originally been domesticated in Africa for the seeds. The stem-bark yields a fine, silky jute-like fiber. Best in deep soil. Hot water treatment to germinate in 1 - 2 weeks.

HOVEA (ho-VEE-a)
LEGUMINOSAE. Australian evergreen shrubs with masses of intensely blue or purple flowers. Good in California or well-drained soil in the greenhouse.
—Hovea elliptica. (20) HOVE-8. Packet: $2.50
https://florabase.dpaw.wa.gov.au/browse/profile/3965
'KARRI BLUE BUSH'. Intensely purple-blue flowers in clusters in spring. Shrub to 6 - 10 feet, with shiny dark green 3" oval leaves and rusty shoots. W. Australia. Nick seed to germinate in 4 - 14 weeks cool.
—Hovea pungens. (10) HOVE-19. Packet: $2.50
https://florabase.dpaw.wa.gov.au/browse/profile/3966
http://esperancewildflowers.blogspot.com/2009/06/devils-pins-hovea-pungens.html
DEVIL'S PINS'. Showy blue-purple flowers on a shrub to 1 - 6 feet, with needle-like leaves. W. Australia. Zone 9. Nick seed to germinate in 1 - 3 weeks cool.

HYDROPHYLLUM (hee-dro-FEE-lum)
HYDROPHYLLACEAE. North American plants.
—Hydrophyllum capitatum. (50) HYDP-6. Packet: $2.50
'CATS BREECHES'. Small purple or white flowers in dense balls in late spring. Hardy perennial to 18", with feathery grey fuzzy basal leaves. W. N. America. Zone 5. Germinates at cool to cold temperatures.

INCARVILLEA
—Incarvillea Delavayi 'Bees Pink'. (10) INCA-7B. Packet: $2.50
Large showy soft pink flowers with yellow throats in clusters in summer. Hardy perennial to 20". China. Zone 6. Germinates in 1 - 2 weeks.

INDIGOFERA (in-di-GO-fer-a)
LEGUMINOSAE. Pretty ornamental plants for the border, shrubbery and greenhouse. Some 700 species of perennials and shrubs with often showy spikes of flowers. Easy from seed; start early in the North. Some may have hard-shelled seed.
—Indigofera australis. (50) INDI-2. Packet: $2.50
http://anpsa.org.au/i-aus.html
https://www.anbg.gov.au/gnp/gnp1/indigofera-australis.html
http://davesgarden.com/guides/pf/go/55927/
'AUSTRAL INDIGO'. Flowers range from red to pink, magenta, lilac, purple, and even blue. Variable shrub to 2 - 8 feet, with bluish-green feathery foliage. Australia. Nice in pots in California or the cool greenhouse. Zone 9. Crushed leaves used as a fish poison. Nick seed to germinate in 1 - 2 weeks.

IOCHROMA (ee-o-KRO-ma)
SOLANACEAE. South American shrubs and trees.
—Iochroma australe. (25) IOCH-4. Packet: $3.00
Pendulous trumpet-shaped 1 1/2" blue flowers on a shrub to 10 feet. Bolivia and Argentina. Zone 8. Germinates in 2 - 4 weeks, best with GA-3. For more seeds and plants grown by plant-explorer Ben Kamm, including many Andean rarities, see his website at www.sacredsucculents.com

IPOMOEA
—Ipomoea coccinea. (25) IPOM-10. Packet: $2.50
'AMERICAN JASMINE', 'STAR GLORY'. Vivid scarlet 3/4" wide trumpets with yellow throats. Annual vine to 10 feet, with heart-shaped 6" leaves. E. U.S. Gives abundant bloom. Nick seed to germinate in 1 - 3 weeks.

IRIS
—Iris foetidissima. (20) IRIS-77. Packet: $2.50
Click for photo »



'GLADWYN', 'ROAST BEEF PLANT'. Purple-lilac to yellowish flowers in May to July, followed by pods which split to show attractive orange-red seeds, good in dried arrangements. Half-hardy perennial to 2 feet. Western Europe. Best in moist semi-shade, but stands dryness well. When bruised, the foliage has a scent at a distance of hot roast beef. Used medicinally. Give seed warm/cold/warm.

JACKSONIA (JAK-son-EE-a)
LEGUMINOSAE, tribe: MIRBELIEAE. Australian almost leafless shrubs. Grown in warm regions or in the cool greenhouse. Germinates in 1 - 4 weeks after nicking or hot water treatment. Of interest to diversity samplers. Soak, nick unswollen.
—Jacksonia scoparia. (50) JACK-22. Packet: $2.50
https://www.anbg.gov.au/gnp/gnp2/jacksonia-scoparia.html
http://anpsa.org.au/j-sco.html
http://bie.ala.org.au/species/http://id.biodiversity.org.au/node/apni/2917560
'WINGED BROOM PEA'. Tree-like shrub to 16 feet, with grey-green, leafless, pendulous branches. Fragrant yellow flowers with red markings produced profusely in clusters at the branch tips in spring. SE Australia. Zone 8. Nick seed to germinate in 1 - 2 weeks.

KENNEDIA (KE-ne-DEE-a)
LEGUMINOSAE. Showy Australian vines and shrubs. Good in the greenhouse, California and the South.
—Kennedia beckxiana. (10) KENN-2. Packet: $2.50
'CAPE ARID CLIMBER'. Large orange-red flowers with yellow eyes. Vigorous climber to 10 feet, with grey-green 2" leaves. W. Australia. Nice greenhouse climber, or use as a groundcover in mild dry climates. Nick to germinate in 1 - 2 weeks or so.

KITAIBELIA (ki-tai-BEE-lee-a)
MALVACEAE. A single species of the Danube.
—Kitaibelia vitifolia. (25) KITA-12. Packet: $2.50
Gram: $7.50
Large white 2" mallow-like flowers, sometimes rose. Bold hardy perennial to 8 feet, with 8" lobed leaves. Zone 4. Easy in ordinary soil, full sun. Blooms July to October. Germinates in 2 - 3 weeks warm. Some lots need light nicking.

KUNZEA (KUN-zee-a)
MYRTACEAE. Ornamental heath-like evergreen Australian shrubs valued for their puff-like flowers and tidy foliage. Likes full sun, good drainage, and a mild climate. Drought resistant and good landscape material in California. Nice in the greenhouse.
—Kunzea Baxteri. (1000) KUNZ-6. Packet: $2.50
http://anpsa.org.au/k-bax.html
https://florabase.dpaw.wa.gov.au/browse/profile/5831
'SCARLET KUNZEA'. Brilliant scarlet bottlebrush flowers on a shrub to 3 - 9 feet, with narrow leaves. W. Australian endemic. Zone 9. Germinates 1 - 2 weeks.

LASIOPETALUM (la-see-o-PET-al-um)
STERCULIACEAE. Australian plants.
—Lasiopetalum baueri. (50) LASI-6. Packet: $2.50
http://www.utas.edu.au/dicotkey/dicotkey/Malv/sLasiopetalum_baueri.htm
http://saseedbank.com.au/species_information.php?rid=2530
'SLENDER VELVET BUSH'. Starry pink to white flowers. Shrub to 1 - 5 feet, with grey-green leaves. S. Australia. Zone 9. Stands drought and some frost. Nick or hot water to germinate at cool to cold temperatures, 2 - 4 weeks or so.
—Lasiopetalum behrii. (50) LASI-8. Packet: $2.50
http://bie.ala.org.au/species/http://id.biodiversity.org.au/node/apni/2912232
https://florabase.dpaw.wa.gov.au/browse/profile/16810
'PINK VELVET BUSH'. Starry pink or white flowers on a shrub to 1 - 5 feet, with narrow leaves. S. Australia. Zone 9. Germinates in 2 - 3 weeks at warm to cold temperatures, hot water or nicking may help.
—Lasiopetalum discolor. (50) LASI-16. Packet: $2.50
https://florabase.dpaw.wa.gov.au/browse/profile/5030
http://bie.ala.org.au/species/http://id.biodiversity.org.au/node/apni/2890029
http://saseedbank.com.au/species_information.php?rid=2532
'COAST VELVET BUSH'. Clusters of starry pink flowers on a shrub to 3 feet. S. Australia. Zone 9. Germinates in 6 weeks or so at cool to cold temps. Hot water or nicking may help.

LEPECHINIA (le-pe-CHIN-ee-a)
LABIATAE. Aromatic shrubs with showy flowers, grown in warm regions for ornament. Includes one of our finest California natives. The large, hard seed may require scarification to germinate.
—Lepechinia hastata BK101106.9. (25) LEPE-18. Packet: $3.50
'BAJA PITCHER SAGE'. Long spikes of bright purple flowers in summer. Perennial to 2 - 4 feet, with aromatic, arrow-shaped blue-green leaves. Collected at 6000 feet, Cape Mountains, Baja. Zone 7. Attracts hummingbirds. Drought resistant. Germinates in 2 weeks or so. For more seeds and plants grown by plant-explorer Ben Kamm, including many Andean rarities, see his website at www.sacredsucculents.com

LILIUM
—Lilium Henryi 'Citrinum'. (25) LILY-40C. Packet: $2.50
5 grams: $15.00
Pale yellow 3" flowers spotted brown, with recurved petals. Up to 20 blooms per plant. Striking hardy lily to 3 - 8 feet. China. Zone 5. Best in part shade. Germinates in 3 - 8 weeks or so.
—Lilium Martagon Mix. (20) LILY-59X. Packet: $2.50
Nice mix of red, orange, pink, and gold. Zone 3.
—Lilium pumilum. (50) LILY-85. Packet: $2.50
Click for photo »


'CORAL LILY'. Fragrant bright scarlet 2" flowers with reflexed petals, in racemes of up to 20, on stems to 1 1/2 feet. Siberia and E. China. Zone 4. Germinates in 2 - 5 weeks. Bulbs edible. "Another beautiful meadow lily, always first of our species to bloom."—Bertrand.
—Lilium pumilum Mix. (25) LILY-85X. Packet: $2.50
Gram: $6.00 BULK OUT OF STOCK - Packets are available
—Lilium regale. (25) LILY-95. Packet: $2.50 OUT OF STOCK
Gram: $6.00 BULK OUT OF STOCK
Click for photos »



'ROYAL or REGAL LILY'. Large fragrant trumpet shaped 6" white flowers with canary-yellow throat, and flushed lilac to purple outside. One to 7 per plant, in July to August. To 2 - 6 feet tall. W. China. Zone 4. Germinates in 2 - 11 weeks without pretreatment. "Have had them bloom in 18 months from seed started in late December."—Bertrand. "Deliciously fragrant... One of the most beautiful of all known lilies, the exquisite blending of tints and colors forming a charming contrast with the rich, deep green foliage. Highly recommended... hardy, strong growing and permanent as far North as Boston."—J. H. Tilton.
—Lilium superbum. (25) LILY-113. Packet: $2.50
5 grams: $15.00
'AMERICAN TURK'S CAP LILY'. Nodding orange-scarlet 4" flowers spotted purple-brown, with recurved petals, July & August. Hardy perennial to 3 - 8 feet. E. N. America. Sow April to June, root germinates in 2 - 5 months, top growth the next spring. The bulbs were eaten in soups by Maine Indians. "The most magnificent and showy of native North American species..."—J. H. Tilton. Zone 3. Up to 40 blooms per plant.

LIQUIDAMBAR (lik-wid-AM-bar)
HAMAMELIDACEAE. 'SWEET GUM'. Highly ornamental deciduous trees of N. America and Asia. Valued for their brilliant autumn coloring, timber and aromatic gum. Easy from seed.
—Liquidambar Styraciflua. (50) LIQU-2. Packet: $2.50
'SWEET GUM'. Large, star-shaped 5 - 7 lobed 7" leaves turn brilliant crimson in fall. Tall tree to 50 - 150 feet. Inch wide spiky fruit balls. Connecticut to Nicaragua. Valued street and shade tree. Germinates readily in 2 - 4 weeks, stragglers up to 10 weeks. The sweet aromatic gum is chewed and used medicinally. Produces a fine wood and the seeds are eaten by birds. "Unsurpassed in the brilliancy of autumnal colors..."—Sargent. Zone 5.

LITHOPHRAGMA (lith-o-FRAG-ma)
SAXIFRAGACEAE. Dainty North American perennials.
—Lithophragma parviflorum. (1000) LITO-19. Packet: $2.50
'WOODLAND STAR'. Starry white flowers in dusters on a bog stem above the rosette of divided leaves. Hardy perennial to 20". W. N. America. Zone 5. Surface sow to germinate in 3- 12 weeks.

LOMATIUM
—Lomatium triternatum. (50) LOMA-42. Packet: $2.50
5 grams: $7.50
'BISCUIT-ROOT', 'BUCK PARSNIP'. Yellow flowers in umbels. Hardy perennial to 2 - 3 feet, with narrow, divided leaves. W. N. America. Zone 4. Attractive foliage for dry harsh places. The thick roots were eaten raw or baked, and used medicinally as a panacea. Germinates at cold temperatures, prechill 8 weeks or more, or sow in fall.

LONICERA
—Lonicera kamtschatica. (50) LONI-52. Packet: $3.50 OUT OF STOCK
'HONEYBERRY'. Greenish yellow flowers followed by edible, inch-long Blueberry-like fruits. Deciduous shrub to 3 - 4 feet, with fuzzy leaves. Kamchatka. Zone 5. Needs two to set fruit. Prechill seed 8 weeks. For more seeds and plants grown by plant-explorer Ben Kamm, including many Andean rarities, see his website at www.sacredsucculents.com

LUPINUS
—Lupinus rivularis. (25) LUP-52. Packet: $2.50
'RIVERBANK LUPINE'. Blue flowers in long spikes. Hardy perennial or sub-shrub to 3 feet. W. U.S. Zone 5. Nice! Nick to germinate in 1 - 4 weeks.
—Lupinus sericeus. (50) LUP-54. Packet: $2.50
10 grams: $7.50
'SILKY LUPINE'. Blue to purple or rose flowers in dense spikes. Hardy perennial to 1 - 3 feet, with attractive silky foliage. W. N. America. Zone 5. Attracts hummingbirds and wild bees. Nick seed to germinates in 2 - 4 weeks or so.
---
[ Home ] [ Up ] [ Supplement A - C ] [ Supplement D - L ] [ Supplement M-Z ] [ Supplement Reserved Access ] [ Supplement Vegetables ] [ Seedlist A-AK ] [ Seedlist AL-AN ] [ Seedlist AP-AZ ] [ Seedlist B ] [ Seedlist CA ] [ Seedlist CE-CL ] [ Seedlist CN-CZ ] [ Seedlist DA-DE ] [ Seedlist DI-DZ ] [ Seedlist EA - ER ] [ Seedlist ES - EZ ] [ Seedlist F-G ] [ Seedlist H ] [ Seedlist I-K ] [ Seedlist LA-LE ] [ Seedlist LI ] [ Seedlist LO-LZ ] [ Seedlist M ] [ Seedlist N ] [ Seedlist O-PA ] [ Seedlist PE-PH ] [ Seedlist PI-PZ ] [ Seedlist Q-R ] [ Seedlist SA-SH ] [ Seedlist SI-SZ ] [ Seedlist TA-TO ] [ Seedlist TR-TZ ] [ Seedlist U-V ] [ Seedlist W-Z ] [ Vegetable Seed A - D ] [ Vegetable Seed E - R ] [ Vegetable Seed S - Z ] [ Organic Seeds ] [ Books ] [ Bulk Seed List ] [ Reserved Access ]
---